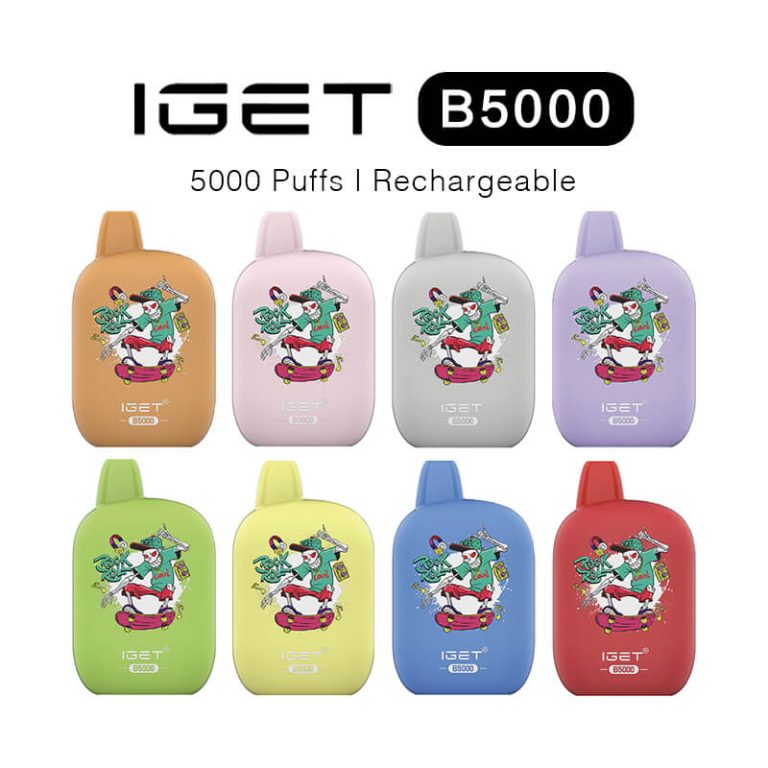 Introducing the IGET B5000: Exploring Exceptional Features and Flavors
Discover the IGET B5000, a disposable vape device set to launch in March 2023, offering an unparalleled vaping experience. This upgraded device boasts a harmonious blend of flavors and the smoothness of nicotine, catering to a wide range of preferences.
At IGET Bar Australia, we've meticulously curated a list of the top five IGET B5000 flavors, based on extensive market research. From timeless classics like strawberry and chocolate to exotic choices such as pineapple and mango, the IGET B5000 caters to diverse tastes. Get ready to experience the hottest flavors in town!
IGET B5000 Vape Overview
The IGET B5000 Vape represents a breakthrough in rechargeable design and advanced atomization technology, promising both extended usage and rich flavors.
Equipped with a robust 550mAh internal rechargeable battery (Type-C), the IGET B5000 ensures extended vaping sessions on a single charge, effortlessly operated for your convenience.
With enhanced energy conversion efficiency, the B5000 delivers more puffs while conserving battery power, providing an impressive 5000 puffs—the second-highest among IGET Vape products. Its sleek and stylish design adds an elegant touch to your vaping experience.
IGET B5000 Nicotine Content
The IGET B5000 offers nicotine levels starting at 50mg, catering to those seeking a robust nicotine hit. For nicotine-free options, consider the Nicotine Free Vape. Responsible usage is crucial, even when transitioning from traditional cigarettes to vaping.
Best IGET B5000 Charge Time
Experience the IGET B5000's swift charging time of just 30-60 minutes, ensuring minimal wait time between vape sessions. Its reliable and efficient charging system makes it ideal for vapers who heavily rely on their devices throughout the day.
IGET B5000 Flavors Review
Explore a diverse range of flavors, including Strawberry Kiwi Ice, Sakura Grape, Blueberry Raspberry Lemon, Double Apple Ice, Strawberry Pitaya, Blueberry Razz, Orange Grapefruit Lemon, Watermelon Ice, Lychee Blackcurrant, and Passion Fruit Mango Ice.
IGET B5000 Bundles
Avail of the IGET B5000 Bundles, offering three pieces for only $100, with the added benefit of free shipping.
The Top 5 IGET B5000 Flavors
1. Green Plum ICE
– Sweetness: ⭐⭐
– Coolness: ⭐⭐
Experience the delightful blend of grape sweetness with the delicate essence of cherry blossom, creating an unforgettable vaping sensation.
2. Strawberry Pitaya
– Sweetness: ⭐⭐⭐
– Coolness: ⭐⭐⭐
Immerse yourself in the sweet allure of strawberries complemented by the exotic tropical notes of pitaya for a truly unique vaping journey.
3. Lychee Blackcurrant
– Sweetness: ⭐⭐⭐
– Coolness: ⭐⭐⭐
Among the remarkable IGET B5000 flavors, Lychee Blackcurrant stands out, offering a captivating fusion of sweet lychee and tangy blackcurrant.
4. Orange Grapefruit Lemon
– Sweetness: ⭐⭐⭐
– Coolness: ⭐⭐⭐
Enjoy the balanced complexity of this flavor, where the sweet orange, bitter grapefruit, and zesty lemon harmonize into a satisfying blend.
5. Blueberry Raspberry Lemon
– Sweetness: ⭐⭐⭐
– Coolness: ⭐⭐⭐
The sweetness of blueberries combines seamlessly with the tartness of raspberries, enhanced by a zesty lemon twist, providing a well-rounded flavor profile.
IGET B5000 Near Me
"Boasting an elegant design, prolonged battery longevity, and swift charging prowess, the IGET B5000 stands as the perfect accompaniment for the mobile vaping enthusiast. With a diverse selection of flavors, it caters to a wide spectrum of tastes.
This comprehensive flavor guide is proudly presented by IGET Bar Vape Shop, a trusted partner with whom we have forged a successful collaboration spanning over three years. We provide an unwavering assurance of product authenticity, complemented by a complimentary one-year after-sales warranty. Embark on your journey of 5000 puffs with us today.